Coronavirus update – Online lessons now available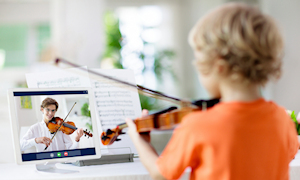 Since March 2020, the start of the pandemic, having virtual lessons has become a new way of learning.
We understand it is important for everyone to stay in good mental health, especially for parents, and finding ways to keep children entertained in a safe and educational environment is important.
In order to continue to provide music tuition, we are offering the option of online lessons as well as in-person lessons for all ages.
Through the Music Academy, students are able to make the most of the situation by learning a new skill and exploring their potential whilst, most importantly, having fun and staying safe!
Call us today on 01782 599885 for more information.
Grow your music with us at Amadeus.